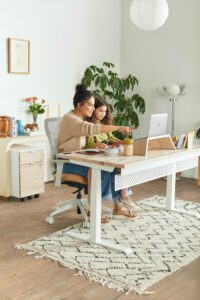 Are you in need of a job, but not willing to have to put your kids in daycare so that you can head to work every day? Not to worry, there are lots of online jobs that you can do right from home. You can help to provide for your family financially and still be at home with your kids every day. Here are some online jobs for moms that might be perfect for you.

Social Media Manager

Nearly every company, blog, website, and business have at least one social media account and many of them have an account for each social media platform. Keeping those accounts relevant and active can take up a lot of time, and that is where the social media manager comes in. You can start your own business helping others manage their social media accounts and you can do it all from home.

Data Entry

Data entry is another online job opportunity that moms can do from home. There are a lot of companies that hire remote data entry personnel and many of them allow you to work when it is convenient for you and not on a set schedule. This can be great for moms with newborns or toddlers who have unpredictable schedules.

Become a Blogger


Starting your own blog can be a very profitable way to make money online working from home. You can pick any niche that you are interested in, start writing, and there you have it you are blogging. Blogging will not make an income at the very beginning but it will as your blog and your audience grows. Starting a blog is a great way to make income in addition to some of these other options.

Virtual Assisting

Virtual assisting is a great way to make money online while staying home with your kids. Virtual assistants perform a variety of tasks for their clients like returning phone calls or emails, setting up appointments, typing up reports or data entry, and other office-type tasks that their clients may need.

Graphic Design

Do you enjoy designing logos or social media posts? If so, you might enjoy working as a graphic designer online from home. All you need is a computer and some experience using one of the many graphic design programs available today like Canva, Photoshop, or Adobe Creative Suite among others.

Freelance Writer

Freelance writing is another easy way for moms to make money online from home around their own schedules. You can find freelance writing jobs on websites like Fiverr and Upwork, and once you have a little experience under your belt you might even try writing for magazines or online publications.

Transcriptionist

Are you great at typing? Can you listen to an audio recording and type out what you hear? If so, then you might want to look into transcription work from home jobs. There is a huge need for transcriptionists in a variety of fields so the work is plentiful and you can do it from the comfort of your home online.

Proofreader

Do grammatical errors and spelling mistakes leap off the page for you? If so, then an online job as a proofreader or editor could be perfect for you. Bloggers, copywriters, businesses, and even students will hire proofreaders to make sure that their work is grammatically correct before publishing it or turning it in.

Etsy Shop Owner

Are you creative? Do you make a craft that you can sell or a digital printable that might be useful to bloggers, teachers, or parents? If so, you should consider starting an Etsy shop because there is a big market for those types of items. An Etsy shop is another great online job option that you can pursue while trying out some of these other online jobs for moms as well.

Online Tutor

Do you enjoy teaching children? If so, you might enjoy becoming an online tutor for children. Some online tutoring companies require previous teaching experience, but many of them only require you to have a Bachelor's degree. You can help to tutor children online in subjects they are struggling with or you can help children in other countries like China learn to speak English.

Search Engine Evaluator

Did you know that companies all over the world will pay you to evaluate that search engines are updated and accurate? You don't have to have any special training to be a search engine evaluator and you can do it when it is convenient for you, making it a great online job for moms. Appen and Lionbridge nearly always have search engine evaluator positions available so if this is something that interests you can start with them.

As you can see there are lots of online jobs for moms, you just need to decide which ones fit your needs and skills. In some cases, you might decide to try more than one of these jobs for multiple income streams. You can also use these options to bring in an income while you are growing other money-making opportunities like your blog.