Cleaning schedule for busy moms
If you are looking for a realistic cleaning schedule for working moms, then you have come to the right place.
Keeping your house clean and running efficiently can be difficult if not impossible when you have to work and keep up with the kids.
In addition to taking care of the kids, there are bills to pay, laundry to be folded, floors to be mopped, meals to be cooked, doctor's appointments, other activities, and the list go on and on.
This is where a good house cleaning schedule for working moms can come in handy. 
You can have a clean house and still not have to spend every waking minute you have at home cleaning.
Your cleaning schedule can be broken down into daily, weekly, and monthly tasks, and don't forget to get other members of your family in on the act.
There is no reason that you should be the only one who tackles the cleaning, so make sure to get your partner and your children (once they are old enough) to help with the house cleaning chores. 
Children as young as two can start helping with cleaning tasks like picking up their toys, matching socks, and helping to wipe things down.
And by the time they are in school, they can make their beds, wash the windows (within reach) sweep, dust, and wipe down counters.
Letting them help with chores helps them to build self-confidence, work ethic, and feeling like a productive members of the household. 
As a busy full-time working mom, it is important to have a routine that you can stick to. 
Once you have something going, it becomes much easier each time. 
Today, I really wanted to get down and discuss tips and tricks for having a cleaning schedule for working moms!
Expect to learn more about:
How to set up cleaning routines for working moms

A few house cleaning tips for working moms

And tips on how to keep a clean house while working full time
I honestly believe that keeping a clean home is less about the time involved and more about how you manage it all. 
I think cleaning a house from bottom to top every single day would be extremely tiring and is not a sensible idea. 
So how do working moms keep a clean house?
How to set a house cleaning schedule for working moms:
Ideally, you want your clean tasks and duties to be broken down into realistic and doable sessions. 
As much as you want to be a super mom, you can't honestly do it all and keep going without breaking down one day. 
I have a busy 4-year old that is extremely active and plays around the house a lot. 
I definitely want my house to look and feel clean every day. 
But there is only so much I can do.
So divide your tasks into manageable sessions that can be done daily, weekly, or monthly. 
Some cleaning can also be done twice a year. 
For now let's set a daily, weekly, monthly cleaning schedule!
Daily cleaning schedule for working moms
If you want to keep your sanity as a busy mom, I really urge you to break down your cleaning schedule into manageable sessions. 
That's why I was determined to come up with a realistic cleaning schedule for working moms.
In order to make it as realistic as possible, you need to have manageable daily household tasks that need to be done every single day to keep the house looking clean and organized. 
Everyone's cleaning routine will look a little bit different because each family has its own needs and priorities, but here is a list of tasks that will probably need to be completed daily in most homes. 
Here is a simple mom cleaning schedule that you can do daily:
Wash the dishes or load the dishwasher

– Have you ever noticed that everything can snowball pretty quickly if the dishes get out of hand? 

Load the dishwasher each day and run it overnight, then you can unload it in the morning before work, or when you get home before dinner. If your children are older you can have them unload the dishwasher after school. 

Do a load of laundry from start to finish

– Laundry is another household chore that can pile up on you very quickly. Do a load of laundry each day from start to finish, however that may look for you. You wash a load at night or in the morning and then throw it in the dryer when you wake up or when you get home from work. You can fold it with your kids after dinner while watching a TV show. 

A general pick-up at the end of the day

– Walk through the house and pick up anything that is out of place and put it back where it belongs. This can keep clutter from piling up on you. 

Vacuum mains areas – I like to go to bed knowing that at least the main areas are cleaned and vacuumed. 
My personal house cleaning schedule does not include every little nitty-gritty thing to clean.
Just as you go daily. 
Also once my daughter is in bed, while watching a little TV, I try to put the laundry away daily. 
A daily cleaning schedule for working moms that is simple is always best. 
Weekly cleaning schedule for working moms
On top of your daily cleaning schedule, you also want to set up a weekly cleaning schedule.
You want to create a working schedule that works for you and your family
Your weekly cleaning chores can be on the weekend like a Saturday or a Sunday. 
Here is a house cleaning tip for working moms, find a day on the weekend that you can concentrate as a family to get things done thoroughly. 
For me, that day is Sunday and this is when I prep for the working week coming ahead. 
Saturday is left for family time and family activities. 
Your weekly household tasks should include the big cleaning tasks that will help you keep the house in order even as a busy working mom. 
Each day of the week, try to tackle at least one bigger cleaning task from your weekly task list. 
Here is a sample cleaning schedule for busy moms that can be done weekly: 
Changing the sheets

Sweeping 

Mopping

Vacuuming 

Cleaning the bathrooms (If you wipe down the sink and toilets daily this will not be such a big chore)

Dusting
Monthly working mom cleaning routine
The monthly part of your cleaning routine can be done at month-end provided that it falls on a weekend. 
This is the weekend that I do nothing but clean and practice self-care. 
And if I can, I hire a cleaning lady to help with some of the cleaning tasks. 
A house cleaning schedule for working moms has to be one that works for you and if you cant do it all, then hire some help. 
Remember that monthly household tasks will include those chores that don't need to be done as frequently.
These monthly household tasks will likely include chores like:
Washing the bathroom rugs

Washing the bedspreads

Dusting the blinds

Wiping down the baseboards

Moving furniture to sweep and mop under it
The right cleaning tools for the job
One way to simplify the cleaning tasks in your home and make them less time-consuming is to make sure that you have the right tools for the job. 
For example, a robotic vacuum can sweep and vacuum the floors while you are at work, or while you watch television before bed.
The price for robotic vacuums has come way down since they first became popular putting them within easier reach for busy family's. 
Swiffer mops and dusters can also make keeping the house clean easier for busy working moms.
You can simply dust, sweep, or mop and then throw the mess away.
Kids love to use these fun products too which means mom gets a helping hand! 
A cleaning caddy or cart that you can roll through the house as you work can make cleaning the house much easier and faster as well.
Instead of having to run back and forth to wherever you store cleaning supplies in between tasks you can just bring everything along with you.
This can save you time and energy, and keep you from getting distracted from your work. 
You can have a clean home and work outside the home, especially with the right schedule, tools, and help from your family.
One key to a tidy home is to keep it from becoming cluttered with belongings you don't need or want anymore.
Try to make it a point to declutter at least one area of your home a week even if it is just a drawer or shelf.
If you get in the habit of doing this once a week or more clutter and chaos won't build up around you when you aren't paying attention.
Do you have any tips or tools to share for working moms trying to keep a cleaning schedule? 
I love looking at other working moms cleaning routine schedules. 
And there you have it, the best house cleaning schedule for working moms!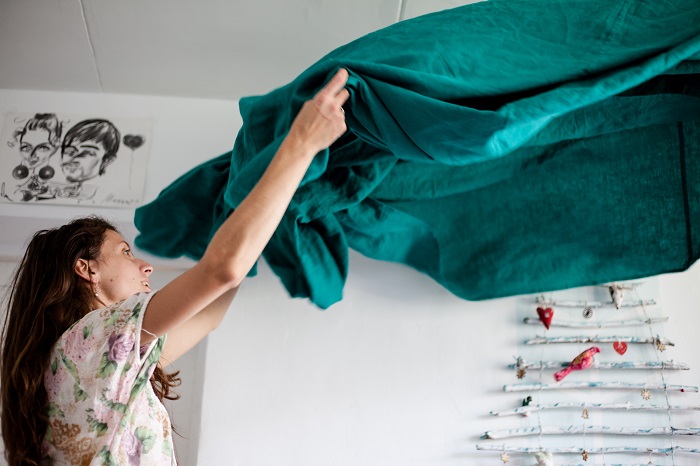 Which of these tips will you be trying out as a busy working mom?
Tell us in the comment section below. 
Remember, you don't have to do it all. 
Read next:
Tried House Cleaning Schedule For Working Moms -It Works